---
Background
There is a growing perception that the state's ability to provide various forms of public service can be enhanced through public-private partnerships, the use of new technologies, as well as various strategies for increased public participation. Such new approaches to provide better services for individuals and communities require breaking the established routines and traditional structures of government, and rethinking the opposition between government bureaucracies and community actors. The good news is that new kinds of collaboration are emerging. Such partnerships are characterized by horizontal practices such as co-governance, co-design, or co-production where citizens, experts, and governments work closely, together, to provide better public services. In the United States and across the world we can observe efforts to promote radical innovations in the public sector followed by the creation of different types of "authorizing environments" that foster these experiments.
At DESIS we call them Public Innovation Places (PIPs). By this we mean to suggest experimental sites, agencies or labs created to tackle innovative solutions to public problems (i.e. affordable housing, education, healthcare, etc.), and dedicated to the creation of networks and partnerships; launching projects, events, and platforms. PIPs can bring together a variety of actors, both public and private, with a diverse array of skill sets and expertise around a set of issues.
Within PIPs there are professionals from different backgrounds (design, economics, policy and social knowledge) who can operate in a more horizontal, non-hierarchical ways and provide a degree of freedom from many of the innovative constraints of agency-specific mandates, policy issues, and procedural restrictions. While free to explore and produce new knowledge and practicable forms in a semi-autonomous fashion, these spaces can be supported by the larger institutional bodies whose services, interests, and practices stand to gain from such collaborative work. How the results of collaboration are taken up might ultimately be up to the specific agency, organization, or community which houses the space, however the idea would be to proliferate such spaces so that they may:
1. work experimentally and freely using design as a tool for advancing innovation in the public sector/realm, and
2. be collaboratively integrated with all interested parties at every step of the process in order to maximize the potential for innovation and new ideas to emerge.
References
Bason, C. "Design-Led Innovation in Government" Stanford Social Innovation Review, Spring 2013.
Staszowski, E., Brown S. and Winter B. (2013). Reflections on Designing for Social Innovation in the Public Sector: A Case Study in New York City
---
Government Innovation Labs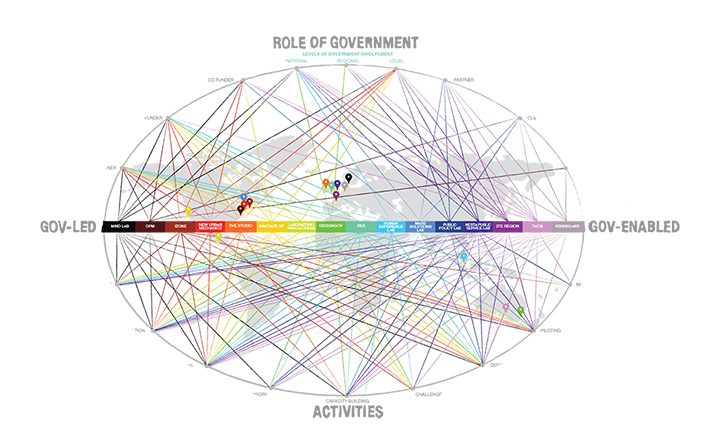 A map created by Daniela Selloni (Polimi DESIS Lab) and Eduardo Staszowski (Parsons DESIS Lab), with the expert advice of Christian Bason (Director MindLab) and Andrea Schneider (Public By Design) to illustrate and monitor the emergence of Government Innovation Labs across the world. Illustrations and graphic design by Amy Findeiss.
A Government Innovation Lab is a specific type of Public Innovation Place characterized by a direct connection with the public sector and created to tackle complex challenges that more traditional governmental structures seek to resolve. Government Innovation Labs experiment with and propose innovative public services and policies, while at the same time, try to reform and change the way government operates.
---
NYC Office of Public Imagination
Given the growing interest and expansion of Government Innovation Labs in the United States and around the world, the Parsons DESIS Lab worked with a class of Transdisciplinary Design MFA students to investigate new models for public innovation units in New York City. During the Fall 2013 term, students designed a fictional governamental agency – The NYC Office of Public Imagination – aimed at promoting social innovations and enhancing the community resilience in the Lower East Side of Manhattan.
Supported by external partners, students interacted with a variety of local actors, both public and private to design the programs and services offered by the 'agency' including the artifacts, interfaces and infrastructures necessary to deliver these services. Please click on the images below to view their proposals.
---
NYC Subcommittee of Temporary Operations and Public Dissent
Building on the current efforts to reimagine interactions and collaborations with the public sector, Isabella Brandalise, a Parsons Transdisciplinary Design MFA 2016 graduate, proposed a design stimulus to trigger imagination within governmental institutions and a framework for encouraging new forms of experimentation, politics and decision-making.
Created to stimulate conversations with civil servants, policymakers and the design community her project is structured as a pataphysical story mixing fiction and reality with in-between narratives, missing chapters and different entry points.
The NYC Subcommittee of Temporary Operations and Public Dissent (STOPD) is an agency that exists non-existently. It is a curatorial lab infiltrated into the New York City's Mayor's Office that questions controlled structures of officiality by creating a temporary autonomous zone. Besides creating experiments and programs, STOPD also collects ideas from the public in decentralized yet connected archives throughout the city.
Please watch the short documentary below to get to know STOPD's organizational structure, procedures and operations.

STOPD's operations are documented and evidenced through their internal reports of operations. Here is an example of such tool:
The project is a component of Isabella's thesis Eventual everydays: infiltrating and opening systems through design. Her thesis book can be accessed below: